All Are Welcome
---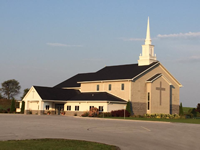 MISSION STATEMENT:
We are a caring community of Christians living our faith through worship, fellowship, study and service to others.
Upcoming Events

---
Lenten Services - Meal begins at 5:45 with Service at 6:30 p.m.
March 21
March 29 - Maundy Thursday Service
March 30 - Good Friday Service at Holy Rosary @ 7 p.m.
March 20 - Stewardship meeting at 7:30 p.m. Open to everyone, please feel free to join us.
March 24 - Confirmation class will be having a brat fry at Piggly Wiggly to raise funds for their mission trip to Minnesota.
April 3 - Martin Luther King service at Immanuel at 6:30 p.m.
April 8 - Sunday Adult  Bible Study at 8:15 a.m. Open to everyone. Please feel free to join us.
***NEW*** Festival Foods has now been added to our Scrip program. Scrip Cards are sold prior to church starting in the fellowship hall.
Youth Group meetings will be held every 2nd Sunday of the month.
We are still looking for choir members; please join us on Wednesdays at 6:30 p.m.
---
Please fill in your email address below and click the Sign Up button to start receiving the Bethlehem Blurb electronically.