Confirmation
---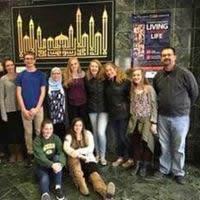 September 27 - traveling to Lakeland College for class.
Please see a confirmation student to support the Crop Walk on 10-8. Our goal is $1,500.  
Past News:
On March 3 and 4, the confirmation class went on an urban immersion retreat in Milwaukee. On Friday evening, we ate dinner at St. Ben's "soup kitchen," sitting side by side and conversing with the regular guests. Afterwards we learned about the causes of homelessness and had our stereotypes challenged.
On Saturday, we bought groceries and made sandwiches and bag lunches for the men who reside at The Guest House of Milwaukee, a shelter for men. We also had a tour. Our retreat concluded with a visit to the Islamic Center where we had a tour and observed a prayer service. Again, we had our preconceived notions corrected. The confirmation students learned so much and had a great time.